In May 2018 a number of CM Artists worked on an exciting art project at the Tate Modern's Tate Exchange led by MA students from Westminster University alongside residents from Snowdrop House, Enfield and Appleby House, Epsom. They had the opportunity to not only visit this iconic gallery, but also take part in a 'Dreamweavers Workshop' creating a striking installation that was on display at the gallery over Easter! This was a very moving and thought-provoking project for all involved and was a wonderful experience for all the residents who took part. Nicky, Lifestyle Lead at Snowdrop House commented: "Residents and staff made art work using fabrics and textiles to incorporate dreams they've had. This was such a fun exercise and it evoked different emotions in everybody involved. One gentleman use to dream about his wife whom had passed a few years previously, and he found it very cathartic. All I can say is what a fantastic day we had. And it's not everyday you can say that you had work displayed at the Tate!"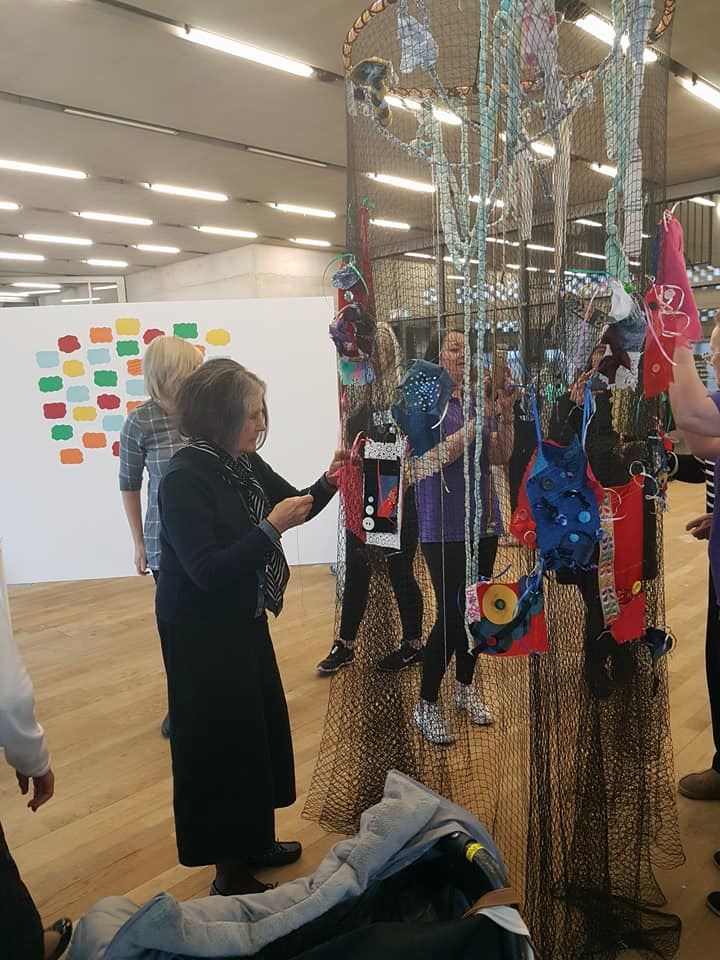 We're excited to announce that we'll back again at the Tate Exchange in May, working in collaboration with Westminster University on another project! This three-day workshop will run from 15th – 17th May and is open for anyone to come and take part and add to an interactive installation.
The theme this year is "Movement" and is a response to the current exhibition at The Tate Modern by Jenny Holzer. This has inspired the project to explore ideas surrounding migration and flight, reflecting the way in which we all move through life. On the run up to the 15th of May, our artists will be working on the project and will be joined by students from Westminster University, creating art work with their clients at Care Homes to bring along to the Tate Exchange. This will be installed as a starting point to inspire the 3-day workshop.
We'll be sharing lots of updates across our social media channels on the run up to the Tate Exchange project, so be sure to follow us on Facebook, Twitter and Instagram for all the behind-the-scenes action. All are welcome to join us for this exciting workshop!
We hope to see you there!
The CM Artists included in the project are:
Hanna, Cherry, Caroline, Sasha, Alice, George, Kirsteen, Karen, Sarah Jane and Laura.
Clients include:
Residents at Chiswick Care, Arnold House, Kew House, The Burroughs, Foxes Den, Mountbatten, Kingsley, Gable Court, Moor House, Clara Court, plus some clients who receive one-to-one art sessions with CM Artists.