Lily, CM Artist based in North Yorkshire has been delivering regular art sessions at The Millings Care Home in Bedale. Some of the residents have been displaying remarkable talent since getting involved in Lily's sessions and the Managers of the home are thrilled with what they have achieved.
During the 1970's and 80's, resident Ivy used to be an avid painter, and enjoyed painting ceramic plates. Unfortunately personal circumstances prevented her from continuing her passion and she hadn't picked up a paintbrush since. A year ago she moved to The Millings, and jumped at the chance to join Lily's art sessions, and was surprised to discover that she could still paint!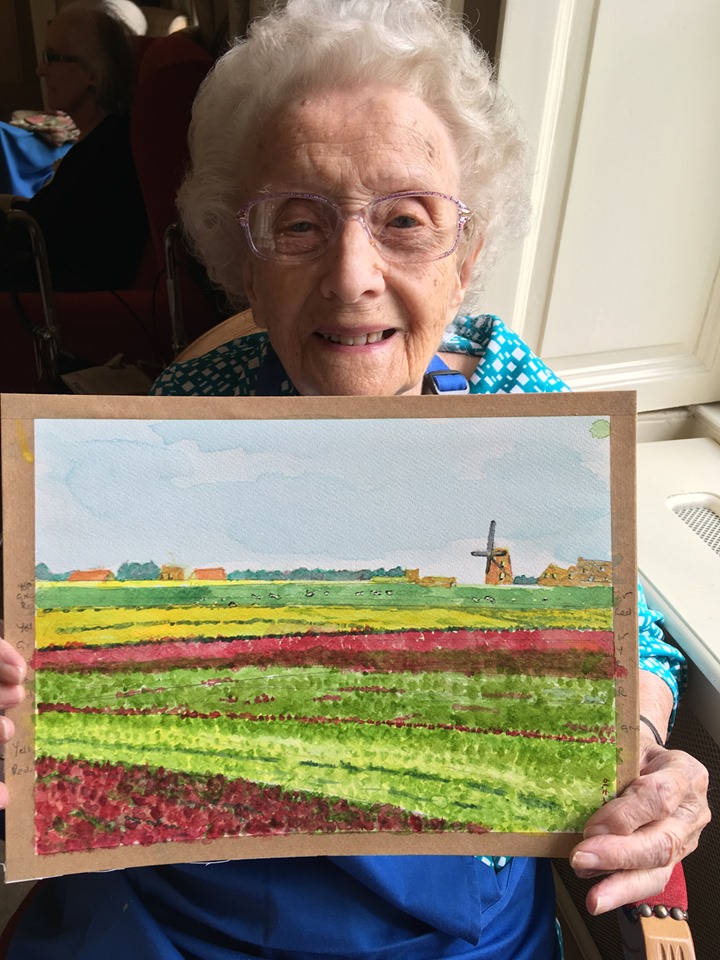 When Ivy attends the sessions she becomes really absorbed in her work; it gives her great pleasure and a huge sense of pride, and Lily has been thrilled to see how much her confidence has grown. Lily says; "Ivy is a delicate Yorkshire woman and is always so happy to learn new techniques. It has been a pleasure working with her and getting to know her."
On 28th June Ivy made local press and was featured in the Darlington and Stockton Times for all she has achieved since getting back into her creative activity.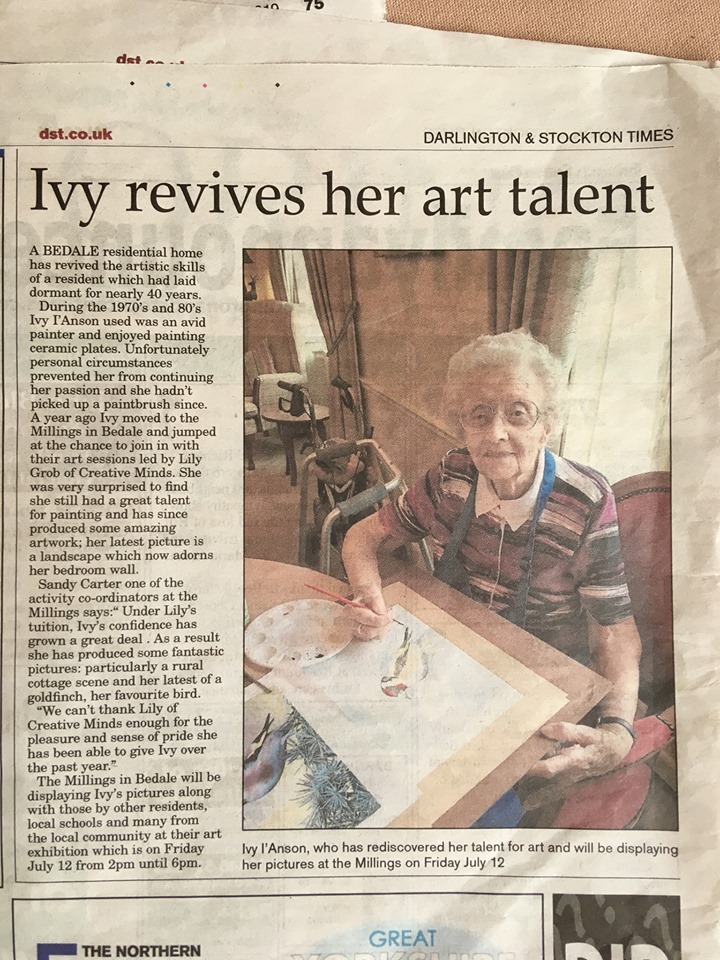 Eric another resident has shown incredible talent since Lily encouraged him to start painting. Eric says "It's never too late to start a new hobby" and at nearly 94, he painted his first watercolour painting in a session with Lily. He enjoyed sketching as a young man and during his school years, so was thrilled at how his painting turned out. He's been creating beautiful watercolour paintings ever since!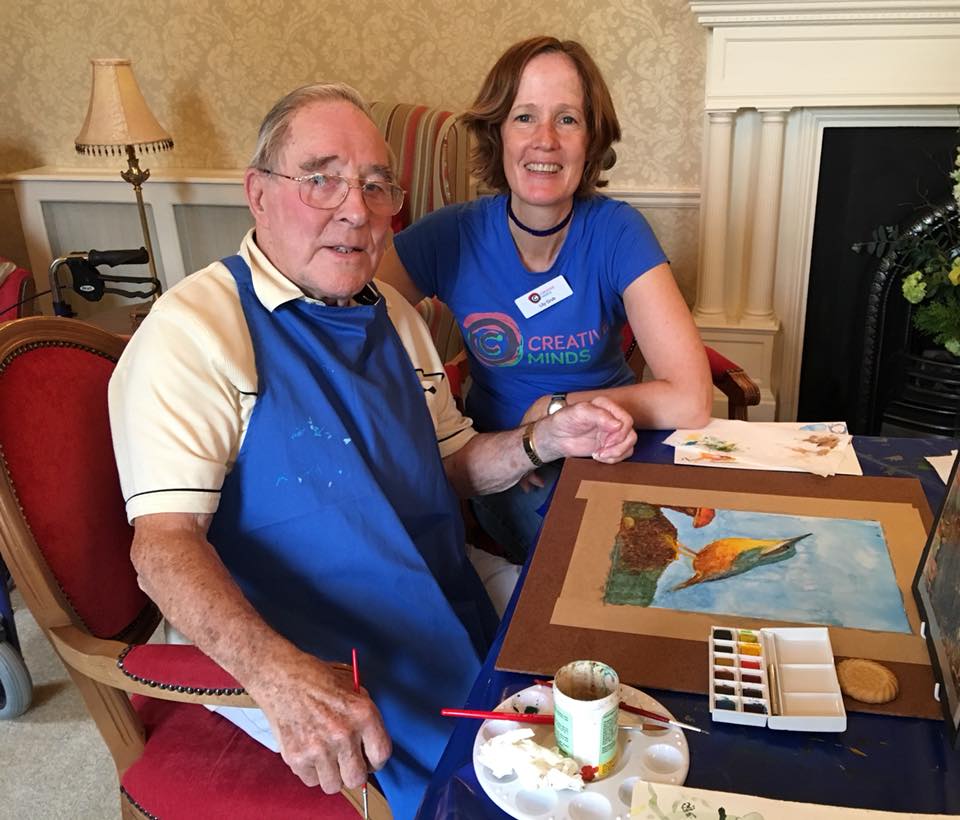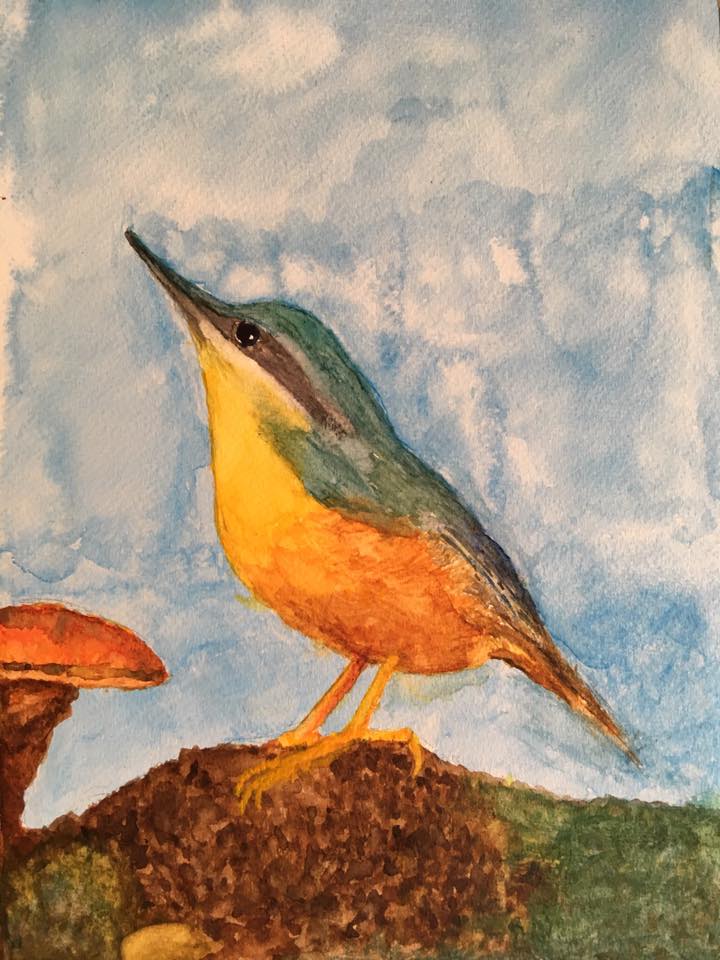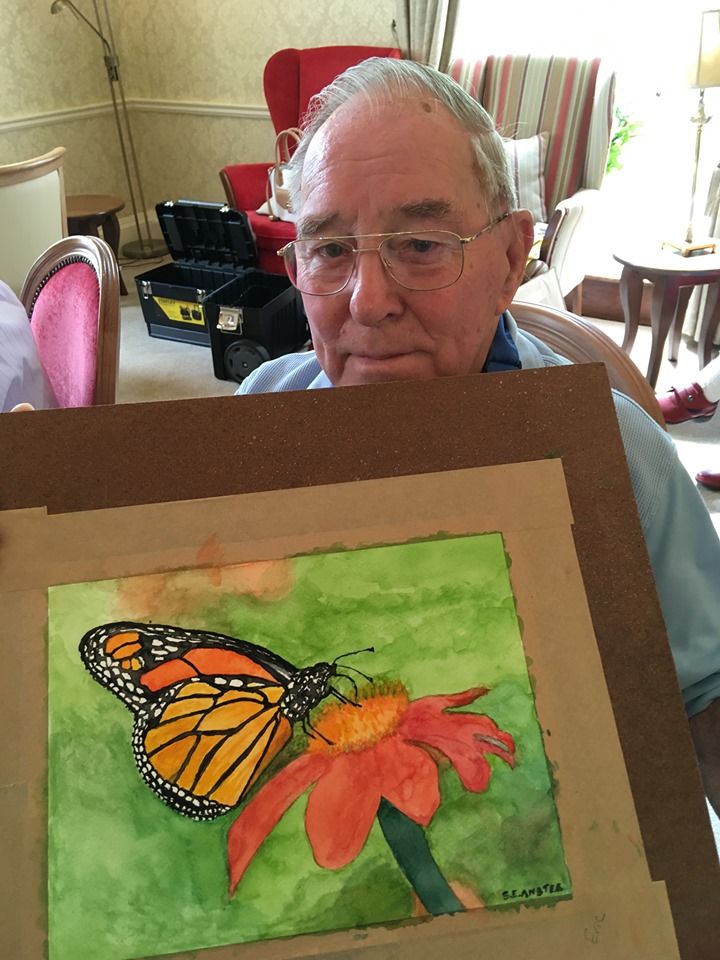 Back in springtime, Lily decided to work with residents and managers from The Millings along with a selection of local schools and nurseries to put together a community art exhibition at the home. Residents got to showcase the beautiful artwork created during their Creative Minds Art Sessions. Then children from local pre-schools, infant, primary and secondary schools all created their own work for the exhibition to the theme of sunflowers and rainbows.
The exhibition opened on the 12th July, and the home was decorated in beautiful artwork running all the way from the front door through to the back of the house. There was an excellent turn-out on the day and the event brought together people of all ages to come and enjoy the results of their creative efforts whilst enjoying a glass of Prosecco with the residents.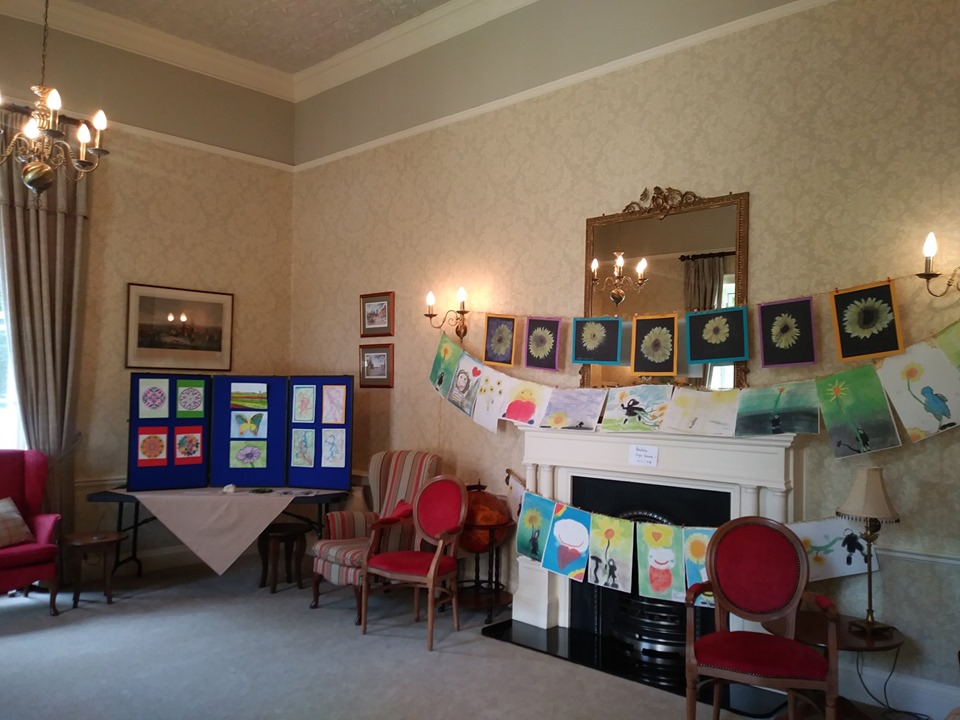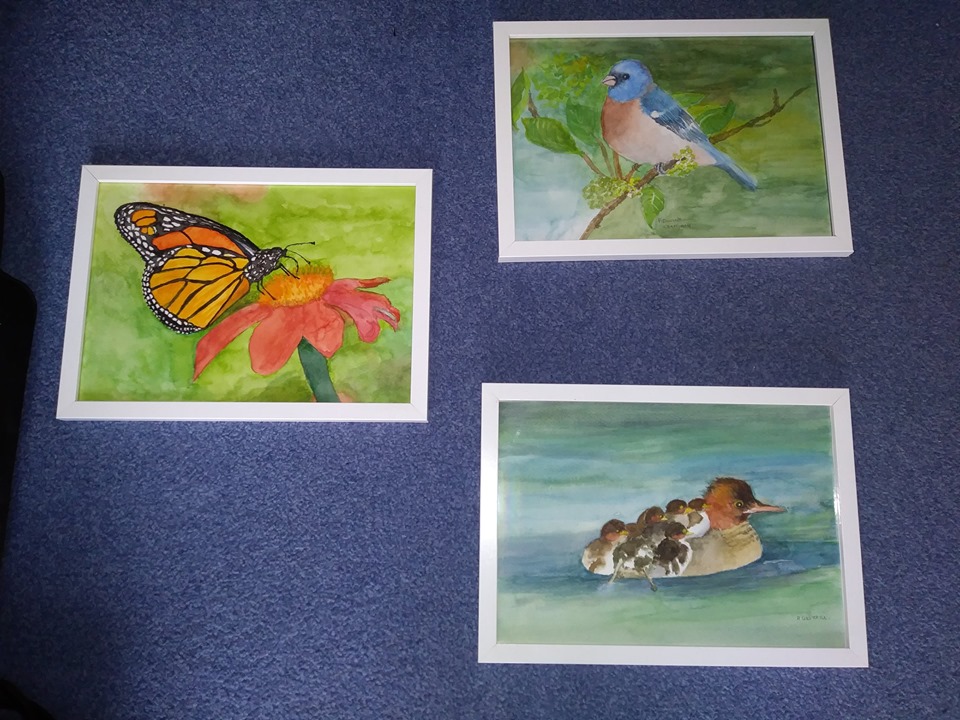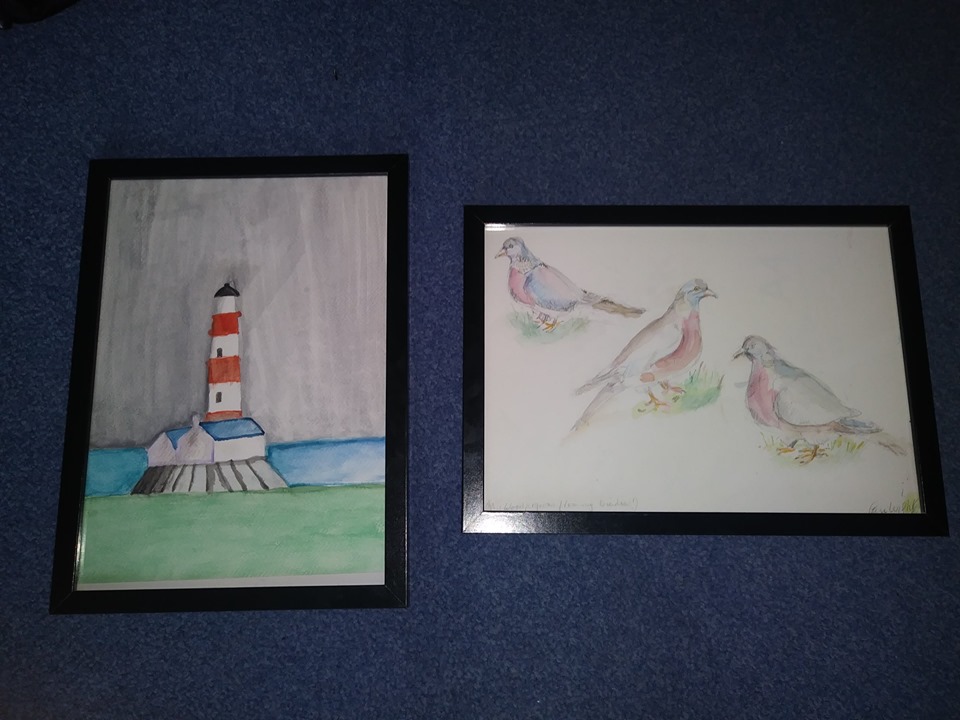 Sandy, the Activity Coordinator at The Millings said; "Our residents have really excelled with Lily from Creative Minds. She really motivates, stimulates and enthuses our residents!"