Our Artists
Creativity is an innate ability that we all possess and it's important that we enable the participants to embrace their creativity and enjoy the creative process regardless of the results. It's about having fun, being in the moment and exploring their creative side. As artists we truly believe that there is a creative side in all of us.
All of the artists that join us have different backgrounds, skillsets and specialisms in art and we all share the belief that art should be accessible to everyone and can have an extremely positive impact on people's lives.
The Creative Minds community is supportive, inspiring and collaborative and we communicate with each other daily via our private community groups. A day won't go by when you're not inspired and humbled by the art sessions and the art work created by the participants across the country.
Tracey
Bradford, West Yorkshire
"I especially like the support and encouragement from other members of CM and I'm very much looking forward to learning new crafts as I progress."
Tina
Eggborough, North Yorkshire
"I have often witnessed people who thought they had no creativity at all, surprise themselves by achieving so much more than they had ever imagined possible."
Susannah
Weston-Super Mare, Somerset
"This led me to Creative Minds which provides everything I've been searching for - a social enterprise that enables people to grow and flourish and have fun with art, whist at the same time allowing me to further pursue my own creativity."
Sasha
Slough, Berkshire
"It feels like Creative Minds is growing alongside the developing understanding of the benefits of art for mental well-being and I'm proud to be part of that journey."
Sarah J
Bridport, Dorset
"I've always loved anything creative and strongly believe in its importance for well-being and happiness!"
Sarah B
Bexhill-on-Sea, East Sussex
"I am now undertaking a wonderfully creative working life being a Creative Minds Artist. It is a joy and privilege to work with our clients producing art they are really proud of and to share the amazing art produced by everyone."
Sarah A
Lympne, Kent
"I am so looking forward to working for Creative Minds, being part of a really supportive Community of artists, making art all day, everyday with a wide range of user groups. What could be more perfect than that!!"
Ruth
Headingley, Leeds
"As part of my degree I researched into the value of art in improving the well-being of people with dementia. This research showed me how much of an impact art can have, and inspired me to want to hold art sessions myself."
Phil
Westbury on Trym, Bristol
"Discovering Creative Minds was a lovely transition for me to help a generation through the joy of art. Opportunities to work with your community through the arts are very rare, so if you discover a position don't delay and take the plunge."
Pat
Edgware, North West London
Meridith
Woodthorpe, Nottingham
"For me, this is an opportunity to be the change I want to see in my community, and to bring positivity into people's lives. "
Lindsay
Worsley, Manchester
"I've always found creating art to be a relaxing and engaging experience. I want to pass on the feel good factor and get other people to enjoy the experience of making art."
Lily
Northampton, Northamptonshire
"Art is for everyone and Creative Minds reaches people in a wonderfully encouraging, engaging, caring way."
Laura
Huntingdon, Cambridgeshire
"When I came across Creative Minds I instantly knew I had to be part of the community. To be able to create art, but also see it make a difference to others lives, well that is my perfect job. With a huge added bonus that I can work around my children's timetable and still be mummy."
Kirsteen
Morden, Surrey
"It is just so incredibly rewarding to see the therapeutic benefits of art, how people relax, engage and transform."
Kim
Sandhurst, Berkshire
"To me, Creative Minds is a perfect fit as I am a strong and passionate believer that Art is accessible to everyone and that art is therapeutic for many reasons."
Kerina
Ipswich, Suffolk
"Creative Minds is a fabulous company which gets everyone involved in art and the enjoyment of creating."
Kayleigh
Silchester, Hampshire
"The training Creative Minds has given me has been so beneficial. I'm so happy to be a part of such a welcoming community of Artists, who share the same values."
Karen U
Reading, Berkshire
"Creativity knows no bounds, there is no right or wrong, its a case of letting go and having fun. I feel my role as a Creative Minds Artist is to support others to connect to their own creativity for these very reasons."
Karen B
New Milton, Hampshire
"It is fantastic to be able to use my skills as an artist and teacher to help enrich the lives of others and encourage creativity, which we all know is good for the soul."
Julie
Farnborough, Hampshire
"Creative Minds is a fantastic opportunity for me to continue my passion, whilst encouraging others to explore Art & Crafts in a fun & relaxed environment."
Judy & Caroline
Salisbury, Wiltshire
"We believe passionately in the therapeutic benefits of art and crafts for all age groups and are really excited about our future as Creative Minds Artists."
Jess
Market Harborough, Leicestershire
Jayne
Wigmore, Kent
"I feel so lucky to be part of the 'Creative Minds' team. It is a wonderful opportunity for me to work in the community and to bring a little piece of creative happiness into people's lives."
Hanna
Enfield, London, EN1 1YX
"As someone with a very diverse set of life experiences across three continents I am passionate about the importance of creativity in everyone's journey. I believe that 'doing' is fundamental to human happiness and that's why I am so excited to be part of the Creative Minds."
Grace
Keevil, Wiltshire
"It's a privilege seeing people surprise themselves with what they are able to produce; especially those who have had little opportunity to access creative pursuits."
Liz
Woodbury, E Devon
"I whole heartedly believe that creating art can empower people, which is why I am so excited to be a part of the Creative Minds community of artists."
Elaine K
Cockfosters, North London
"It is a wonderful opportunity to be able to bring the pleasure of creativity to my local community and hopefully spread happiness on the way!"
Elaine H
Stratford, London
"Joining Creative Minds is a great opportunity to work within the arts and earn a living. The start-up package is excellent and covers everything needed to run the sessions. Creative Minds has a sound concept and a vision to grow into a larger enterprise."
Deborah
Sparkhill, Birmingham
"I believe wholeheartedly in the powerful relationship that exists between art and health."
David
Forest Hill, South London
"When I discovered Creative Minds I was immediately inspired to see if I could join the team. To be able to facilitate art sessions that brings joy to others is a privilege. I am very excited to be a part of this expanding enterprise."
Cathy
Brighton, East Sussex
"I became interested in how art could promote personal well being and started working as an Activities Coordinator helping people with dementia and learning difficulties. I noticed the effect that all forms of art made to their sense of personal happiness and self confidence."
Caroline
Thames Ditton, Surrey
"Enabling and inspiring others to find their creative self is so rewarding. So many think and tell themselves 'I can't', but given the opportunity and encouragement discover 'they can!'. Those moments are especially precious."
Alison
Nuneaton, Warwickshire
"I am thrilled to now be working in such a worthwhile creative business, with the network support of a great bunch of professional artists. Being able to explore such a vast range of art mediums and materials is incredible whilst sharing the joy of creativity with others."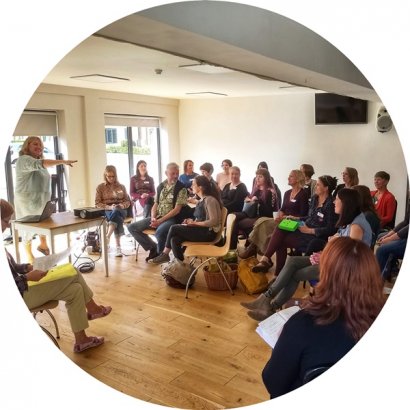 Discovery Day
Come and join us at our next franchise 'Discovery Day' taking place in Coventry on Saturday 27th April!
Sign up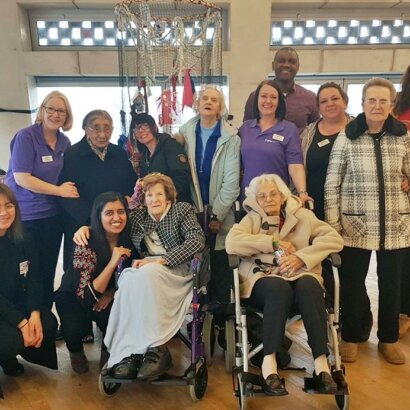 Tate Exchange
We're collaborating with Westminster University to deliver a community based project at the Tate from Weds 15th - Fri 17th May - feel free to say hello!
Read more
Traceys'

Story

To be able to say that I enjoy my job is such a great feeling. I'm able to spend more time with family and friends as I can choose when I work. My work/life balance is much more improved and I'm so much happier in myself.

Being able to work doing something I love was what caught my eye initially. I also loved the idea of the artist community where you can share and learn new ideas.

I found the start-up cost was reasonable, along with the monthly fee. With the training, information and materials provided you are given a good foundation to begin building your business at whatever pace is suited to you.

At the start, I was able to combine my current job with my Creative Minds art sessions – which was ideal for my situation. When the time was right, I could then focus completely on my art sessions.