The Alzheimer's Show is an annual event held at London Olympia and is the UK's leading event for dementia help, advice and information. The show is attended by family carers, healthcare professionals and members of the public who want to learn more.
We exhibited at this year's event on June 7th & 8th and ran a number of art sessions for attendees to come along and get involved. Participants had the opportunity to create drawings using soft pastels and have a go at print making using cardboard blocks. There was also a giant communal canvas, which people could come and add their own mark to. It was a great opportunity for people to come explore their own creativity whilst finding out more about what we do, and the benefits that our art sessions have on those in care or living with dementia.
Attendees really got stuck in, and the gentleman pictured (with the daisy drawing) had never worked in pastels before in his life! After being diagnosed with early onset dementia, he attended the show with his daughter. He said he'd been advised to try some creative activity as it would be beneficial to him, so he bought a book on art but found it too much information. He also bought an adult colouring book, but never used it. Then when he attended the show, and visited our stand he plucked up the courage to attend our art session – he went on to produce this beautiful daisy drawing! Every participant at the session couldn't believe he had never drawn before and all wanted a photo of him with his artwork. He was so proud and emotional by the end of the session.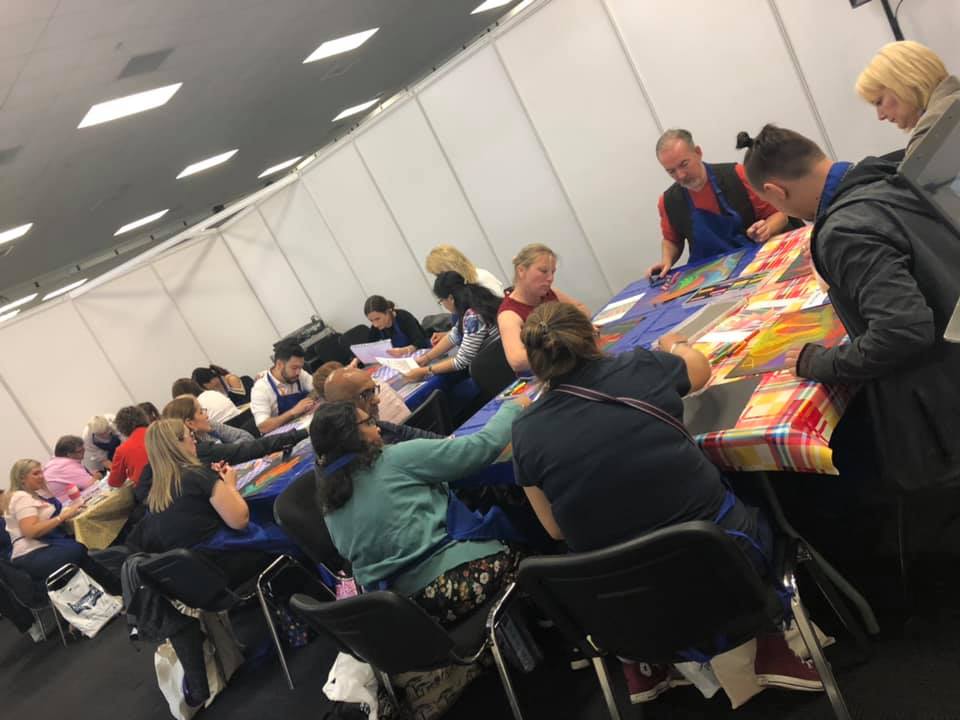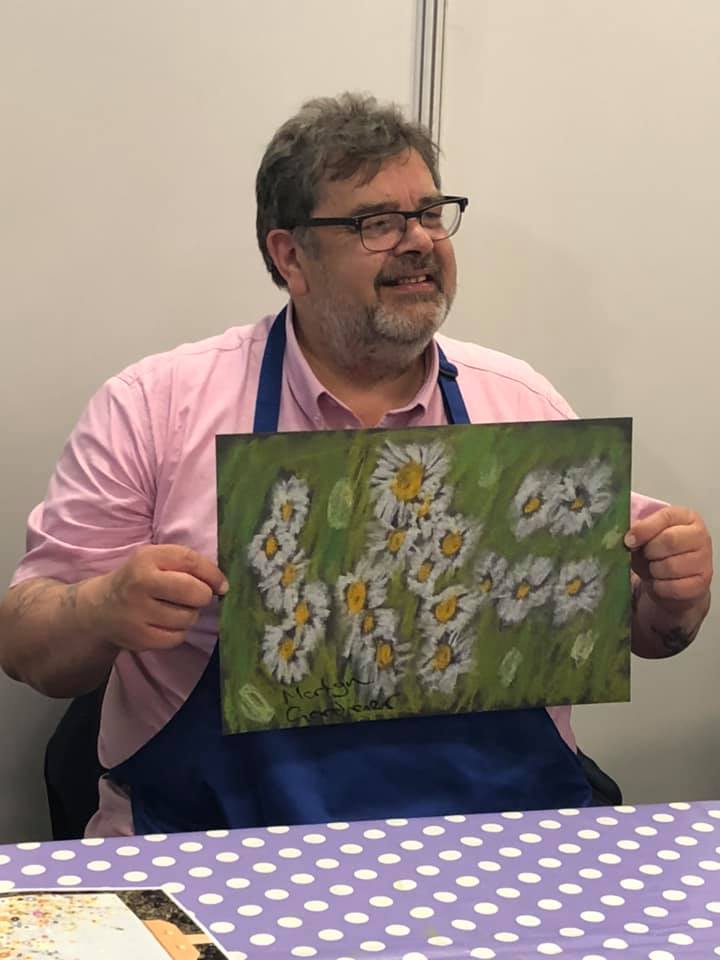 CM Artists really enjoyed attending the Alzheimer's Show too. CM Artist Laura commented; "What an amazing experience! Getting to meet so many caring people all wanting to help others, it was just so humbling. The response was brilliant, one lady said to me it was the best part of her day! The soft pastels went down a storm with lots of great work. Everyone was so pleased with their efforts. It was a very rewarding session!".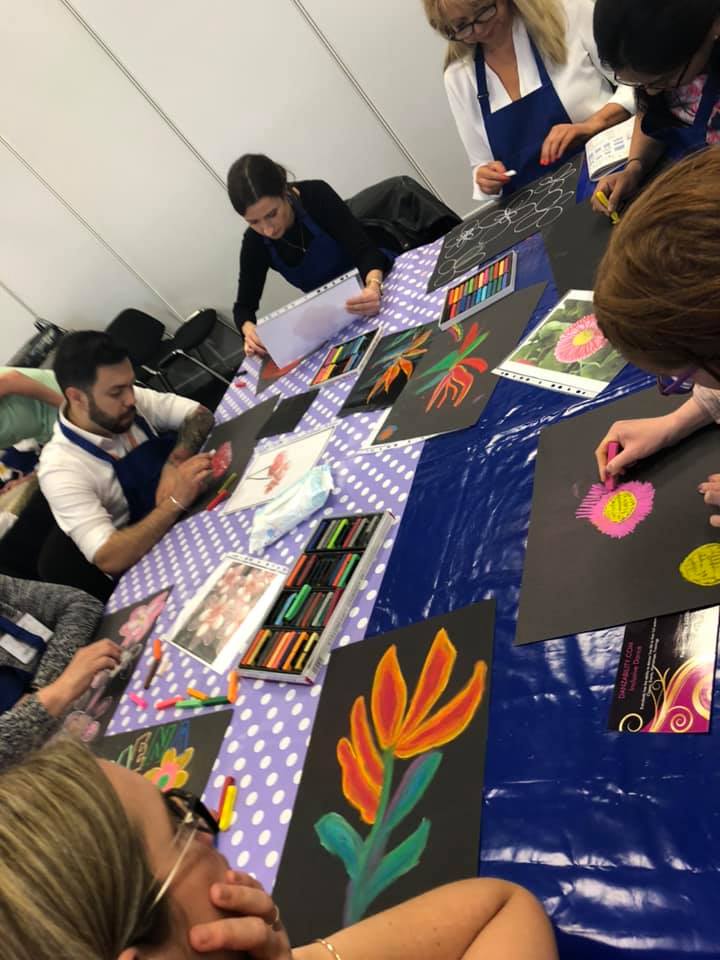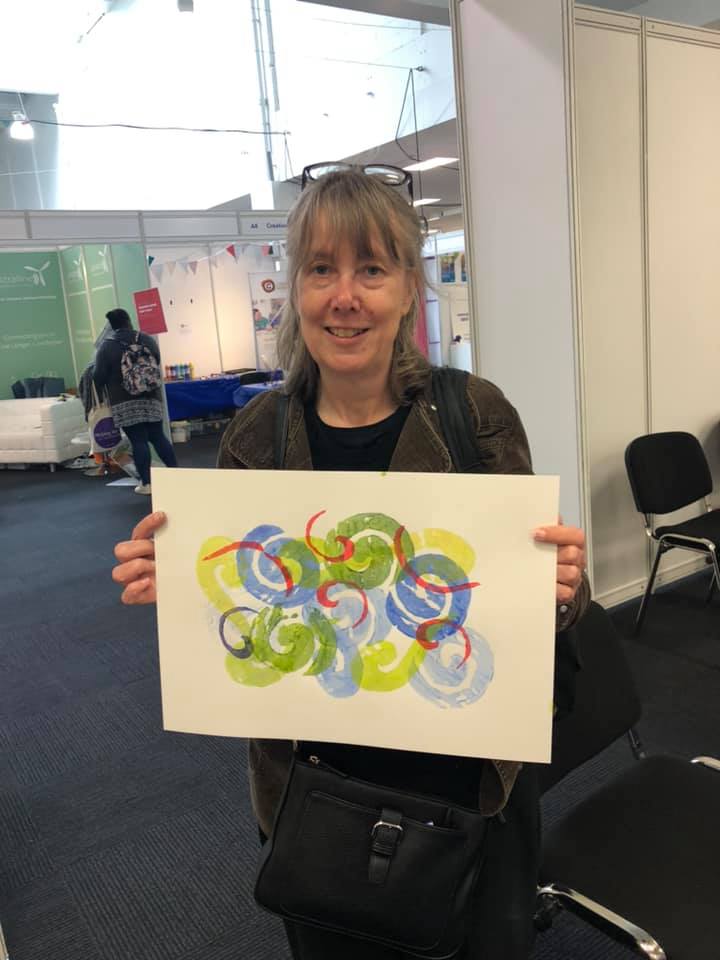 Many industry professionals visited our stand during the day, and one of the tutors from the Reigate School of Art commented that our art sessions gave them loads more ideas and inspiration on how they can do more work to engage the local community.
We are also delighted to announce that following the Alzheimer's Show, we have formed a partnership with a wonderful organisation, MindForYou, who run holidays for people living with dementia to enjoy with their nearest and dearest. Holiday goers will be able to enjoy fun, relaxing and therapeutic art sessions during their UK breaks, ran by our specially trained artists!