For two and half years, CM Artist Hanna has been running art sessions at Arnold House, Leonard Cheshire, a facility for people with profound physical disabilities. During that time she formed a strong bond with one resident, Charmaine, who's sheer determination and strength of character never ceased to amaze her. Charmaine has cerebral palsy and is unable to move from the neck down. Despite her physical challenges, she is always enthusiastic and willing to give anything a go.
When they first met, Hanna gently encouraged her to try holding a paintbrush in her mouth and experiment with mark-making, as she held out the paper for her to paint on. At the end of her first session she was thrilled with what she had achieved. Since then, Hanna has been delighted to see Charmaine's confidence in her creative ability blossom. Each week she loves learning about different creative mediums and is always enthusiastic to try something new.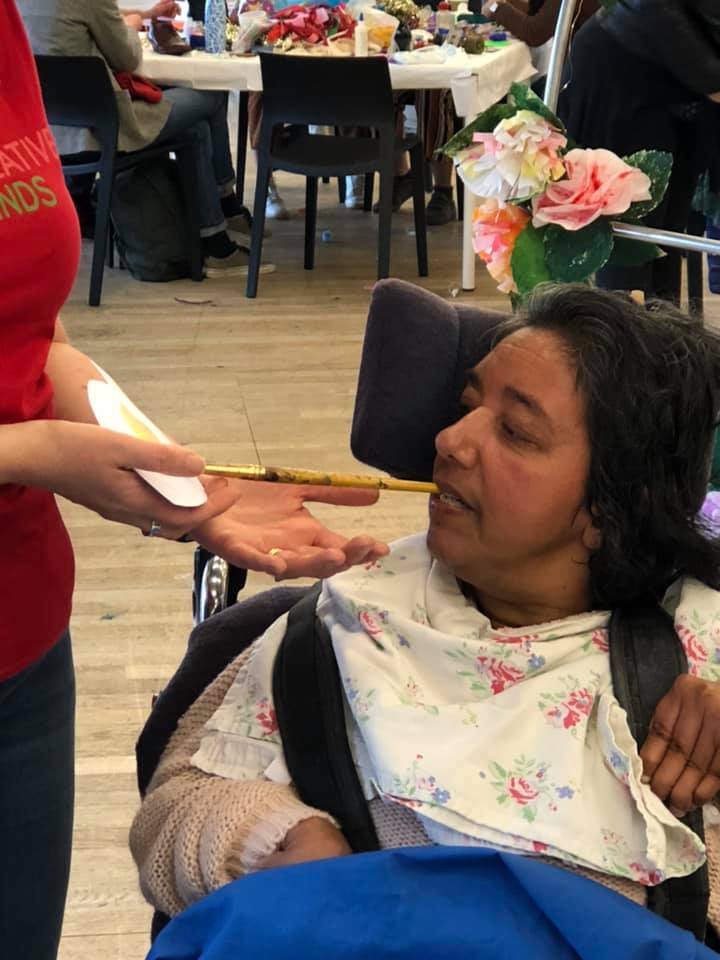 Charmaine attended our recent workshop at the Tate Exchange and really got stuck in, painting feathers for a peacock sculpture and flowers for the installation. She couldn't have been more excited to see some of her own creations on display at the Tate. The look of pure joy and happiness at what she had achieved at the end of the day was absolutely priceless!
CM Artist Hanna commented; "Charmaine is such a vibrant, fun and happy person. She is like a shining star and always makes me feel incredibly humble."
The Tate Exchange project took place from Wednesday 15th to Friday 17th May and was a huge success! Thank you again to all of the CM Artists and their clients that attended.
You can find our earlier Tate Exchange blog post here:
http://159.65.94.31/creative-minds-at-the-tate-exchange/